Want to learn more about retirement planning in the modern age from experts in the industry? Join us at the 2019 ASPPA Annual Conference, October 20-23 in National Harbor, Maryland!
This conference dives deep into the new regulations and legislation surrounding the retirement industry, giving attendees an in-depth understanding of financial planning and how it can be used to maximize business.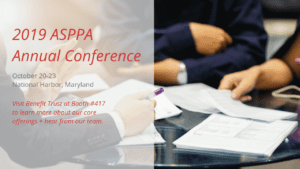 Plus, it's a whole lot of fun as well! Explore the vibrant Potomac waterfront of National Harbor, celebrate the 50-year anniversary of Woodstock with Groovin' On Tour, and hang out with your peers in a relaxed, educational setting.
And don't forget to visit us at Booth #417. These conferences allow us the opportunity to develop deeper relationships with individuals, engaging and learning from our peers and even potential retirement partners.
We'd love to see you and talk about our core offerings, such as:
• Custom benefit plans
• Trustee and custodial services
• Trade execution and settlement platform
• Portfolio unitization
• Investment management
Plus, you'll get entered to win a $250 Visa gift card when you visit, so make sure to stop by!
For more information on the conference or to register and see the agenda, click here.
What is ASPPA?
American Society of Pension Professionals & Actuaries (ASPPA), and its four sister organizations — ACOPA, NAPA, NTSA and PSCA — comprise the American Retirement Association, the premier national organization for retirement plan professionals in the industry.
This non-profit group has two main goals: to educate retirement plan professionals (like us) and to create a framework of public policy that gives every working American the ability to enjoy a comfortable retirement.
Their education opportunities include certificate and continuing education programs, credentialing, and a premier line-up of conferences like the 2019 ASPPA Annual Conference.