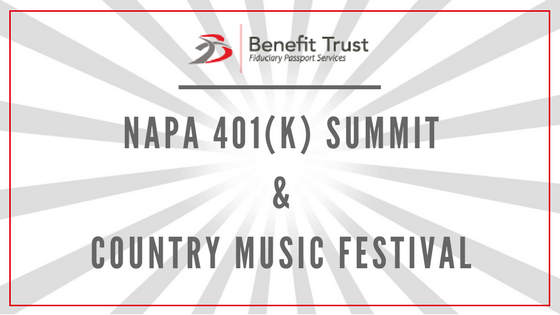 what is the napa 401(k) summit?
Expert retirement industry speakers by day and Nashville's musical talent by night. Benefit Trust will be attending the 2018 NAPA 401(k) SUMMIT & Country Music Festival. These events will take place April 15th – 17th in Nashville, TN. Here we'll come together with fellow retirement plan professionals for the premier event. Those who sell, market, support, or service 401(k) plans will be in attendance. It's not just a conference. Even more, it's an experience where you can connect, learn, explore and play.
What is NAPA?
NAPA is backed by over 50 years of history educating those working in the retirement plan industry. Every year they break the record with more than 2,000 attendees. NAPA attracts the very best experts to speak at innovative, interactive educational sessions. It's a space to network with event sponsors, exhibitors and industry leaders and professionals to gain insight on the retirement plan industry, receive updates on current legal and regulatory developments and earn NAPA, ASPPA, and CFP CE credits. Here you can present your most challenging issues and let them show you innovative ways to help you transform your business. That's why it's the annual must-attend event for advisors!
Also, Nashville will host Summit After Dark and close downtown's famous Broadway between 3rd and 4th Avenue to bring you an unforgettable private block party and Music Festival. Don't forget to join in the fun at venues like Wild Horse Saloon, Whiskey Bent, Crazy Town, The Valentine and Tin Roof, where you can certainly find the best of Nashville's country music scene.
Benefit Trust will have a booth in the exhibit all for the upcoming NAPA Conference. Stop by to learn about our core offerings including custom benefit plans, trustee and custodial services, trade execution and settlement platform, portfolio unitization, investment management and much more. See you in Nashville!
For more information on this event, click here.