Collective Investment Trust
Benefit Trust sponsors and serves as discretionary trustee of Collective Investment Trusts (CITs) which have been created under the Declaration of Trust. Benefit Trust employs third party managers to provide investment management services for all the CITs. As Trustee, Benefit Trust provides the active fiduciary oversight, custody, portfolio accounting and transfer agent services for the CITs which are traded via the NSCC.
Download more information on CITs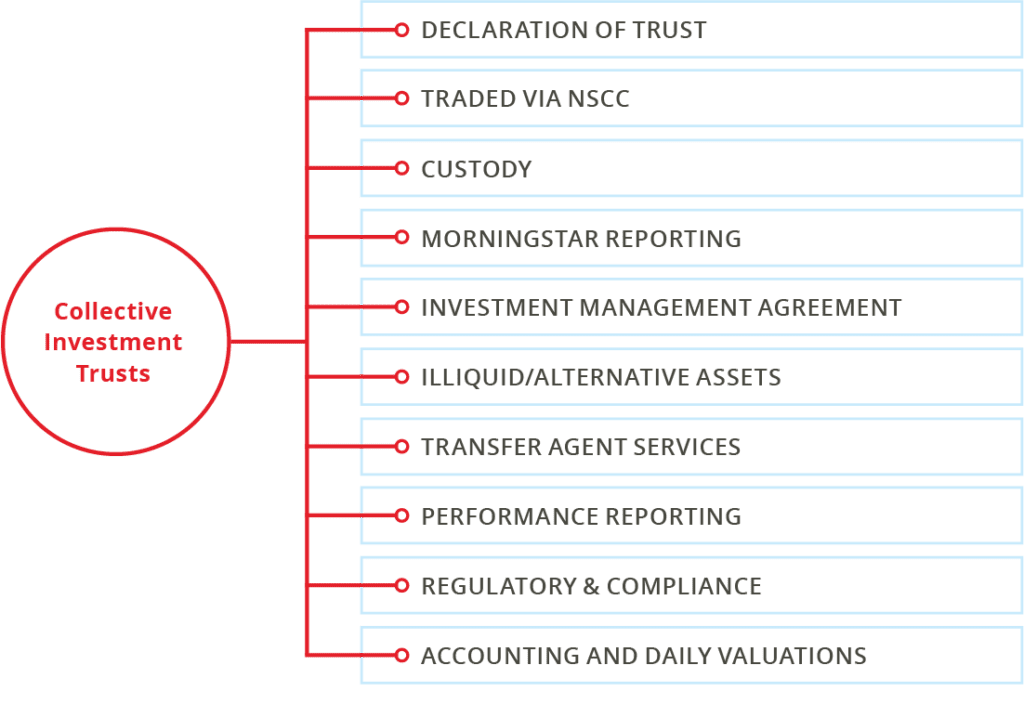 Serve as Trustee of the trust and assume fiduciary responsibility for the trust/funds activities
Maintain the declaration of trust in accordance with governing regulations
Create share classes with shareholder servicing revenue where appropriate
Prepare an investment policy statement for each new fund and provide amendments should an investment objective be changed or modified
Provide the necessary investment authorization agreements (participation or joinder agreements)
Generate fund fact pages for each fund
Enter into required agreements with recordkeepers to ensure a conduit exists for providing CIT information, reports, and notices to participating plans
File required governmental reports for the trust
Prepare and distribute annual audited financial statements for each fund
Monitor and approve advisor activities on an ongoing basis
Ensure that investments are in compliance with the fund's investment policy statement
Examine and approve plans participating in the CITs prior to the initial admission into the trust funds
Provide 408(b)(2) and 404(a)(5) disclosure materials for distribution to financial intermediaries and plan sponsors
Accessible through Morningstar
Maintain custody of trust assets
Settle underlying trades for the funds
Calculate and provide periodic investment performance for each fund
Monitor and maintain the glide path methodology for the target date fund series
Provide investment advisors with daily cash and security position reports and/or provide on-line inquiry into the custody/valuation accounting system
As transfer agent, maintain the official books of record for the trust funds including a record of participating plans
Reconcile cash and underlying position holdings daily
Determine the NAV of each fund daily
Communicate trust fund unit activity and daily NAVs to the NSCC and other interested parties
Provide investment performance reporting and compare to the appropriate benchmark for each fund
Calculate, accrue, and remit shareholder servicing revenue to the recordkeepers or trading platforms for trust fund share classes that have a shareholder servicing revenue feature
The funds created under the Declaration of Trust were established to provide a vehicle for the efficient collective investment of assets of ERISA plans.
Benefit Trust, serving as Trustee of the CITs, is a bank as defined in §2(5) of the Investment Company Act of 1940, as amended ("Investment Company Act"), and is a fiduciary, within the meaning of §3(21) of ERISA, and is an investment manager, as defined in §3(38) of ERISA, with respect to each participating plan that is subject to Part 4 of Title I of ERISA.
The Investors Master Trust for Employee Benefit Trusts is exempt from taxation under Code §501(a) and qualifies as a group trust under Revenue ruling 81-100.
Investment advisors appointed by Benefit Trust shall be qualified to serve as an investment manager under §3(38) of ERISA, as a "qualified professional asset manager" as described in Prohibited Transaction Class Exemption 84-14 issued by the United States Department of Labor.
Each advisor acknowledges in writing that it is a fiduciary with respect to the plan assets invested in the CITs by the participating accounts within the meaning of §3(21) of ERISA.
nBalance
Benefit Trust Company's "nBalance" is an automated, state-of-the-art, multi-currency Fund of Funds (FoF) portfolio cash flow management system, offered as a Benefit Trust-hosted service, which is designed to provide algorithmic cash flow allocation and rebalancing for portfolios (e.g. CITs, custom portfolios) whose asset allocation models span an arbitrary number of hierarchal sub-asset class levels.
Trading
Benefit Trust specializes in buy-side trade execution and settlement services, designed to fill a variety of needs:
as a stand-alone option for financial institutions such as banks and trust companies
in conjunction with Benefit Trust's custody services, to support trading of plan assets
in conjunction with nBalance, to support Fund of Funds portfolio trading
in conjunction with Benefit Trust's unitization services, to support trading of underlying securities
Benefit Trust's buy-side trade execution and settlement platform includes:
Mutual fund trading and settlement via the National Securities Clearing Corporation (NSCC)
Trading agreements with over 375 fund families
Access to non-NSCC eligible funds, as well as ETFs and other equities
Cash and asset reconciliation
Electronic interface: daily cash report, security positions, trade file acknowledgements and confirmations
Integration with nBalance, for Fund of Funds trading
Collection and distribution of mutual fund revenue share payments
Benefit Trust is a Rule 2(ii)(c) (fund) member of NSCC, and supports NSCC connectivity for unitized portfolios (e.g. CITs, custom portfolios) via its NSCC interface – in these cases, Benefit Trust acts as NSCC fund sponsor.
Fundplicity is Benefit Trust's multi-currency, global sell-side service for transfer agents and fund companies. Fundplicity provides a SWIFT ISO 20022 interface to the Depository Trust & Clearing Corporation's (DTCC's) National Securities Clearing Corporation (NSCC) Fund/SERV, Networking, Mutual Fund Profile (MFP), Payment aXis, and ACATS-Fund/SERV platforms, in order to facilitate buy-side distributors that require the use of NSCC.  Fundplicity includes a proprietary (delimited) file-based interface, ISO 20022 funds messaging via SWIFT, and a comprehensive web-based interface.
Trustee Services
Since inception, Benefit Trust has operated with a Fiduciary first approach. In that approach, we built a business while operating as a Discretionary Trustee, the highest level of fiduciary responsibility. Benefit Trust has never shied away from the responsibilities that come with this high level appointment, in fact, we feel our expertise is best utilized by directing your plan assets and alleviating some of the fiduciary risk of the Plan Sponsor.
As the directed trustee, Benefit Trust holds legal title to the assets held in trust. While working with Plan Sponsors, Benefit Trust is highly accustom to partnering with outside Advisors to ensure that your plan is efficient, and works within the scope of the Investment Policy Statement (IPS). We have great working relationships with all of our Advisor partners, and are always looking for the opportunity to create new ones.
Whether it is a startup plan, or you are looking for a change, Benefit Trust excels in the safe-keeping and accounting of your assets while exercising no discretion. Disbursements are completed quickly and professionally, including periodic and recurring payments with federal and state tax withholding's.
Unitization
Benefit Trust's sophisticated capabilities support your creation and delivery of unitized fund prices. Benefit Trust records daily income and expense accruals, participant activity, corporate actions, security transactions, and receives files from multiple pricing vendors, to create a daily unitized price.
With unitization an employer security can be placed within a plan investment lineup and traded identical to a mutual fund. Benefit Trust provides the following functions:
Daily valuations and custodial functions
Liquidity management
Securities trading
Corporate action processing and expense accruals
Daily cash and security reconcilement
Transmits electronically key portfolio elements
Units outstanding
Daily price of unitized fund
Daily price of underlying asset
With Benefit Trust's state-of-the-art technology, an investment advisor can create one or a series of fund-of-funds portfolios that can be used within a plan investment lineup. Benefit Trust provides the following functions:
Daily valuations and custodial functions
Corporate action processing and expense accruals
Daily cash and security reconcilement
Allocation, execution and settlement of underlying funds (same day / late day capabilities)
Rebalancing
Passive and active models
Transmits electronically key portfolio elements
Units outstanding
Daily price of unitized fund
When situations dictate, Benefit Trust can accommodate investment advisors wish to manage plan assets with individual securities. We utilize a multi-currency accounting system that accommodates virtually any type of marketable security. Benefit Trust provides the following functions:
Daily valuations and custodial functions
Corporate action processing and expense accruals
Daily cash and security reconcilement
One or more investment manager with cash available reporting
Foreign / ADR tax reclaim filings
Online access to accounts / portfolios
Transmits electronically key portfolio elements
Units outstanding
Daily price of managed fund
Trustee or custodial services for your unitized portfolio
Custodial or non-custodial arrangements
Daily processing of portfolio transactions
Daily, monthly or periodic valuations
Superior client service
Unitize one or hundreds of holdings in portfolio
Supports NSCC trading in an open architecture environment
No offshoring
Small organization – more nimble, personalized service, fewer bureaucratic hoops
Revenue sharing capabilities
Electronic delivery of files and reports
Contract with plan sponsor or as a back office valuation agent and custodian
Common and Preferred Stock
Exchange-Traded Funds
Fixed Income
Warrants and Rights
Futures and Options
Mutual funds / collective investment trusts
Hedge funds / private equities
Swaps
Foreign exchange contracts